---
MEDIA CONTACT
Linda Strick,
Perfect P.R.
(310) 452-0186
Email:
perfectprforyou@gmail.com
---
Health Care
updated 2/15/2010
How To Select A Health Insurance Plan
and
Health Care Reform
Survive on your own terms
updated 8/13/2007
An extension of resource to complement solutions set forth in Linda's book "What Next?"
____________________
____________________
Personal
Insights:
THE SOOTHESAYER INTERNET NEWSLETTER
Linda Schurman
Editor and Publisher
March 2014
Important Points of Reference (for astrologers):
New Moon at 10 degrees Pisces sextile Pluto as Mars goes retrograde at 27 degrees Libra on March 1, Full Moon at 26 degrees Virgo, inconjunct the South Node/Mercury sextile forming a Yod on March 16th, New Moon conjunct Uranus and square Jupiter opposition Pluto on March 30th forming a grand cross with the Sun/Saturn square in the U.S. Natal Chart, Mercury (now direct) is square Saturn between March 10 and 11, the Nodes of the Moon move into critical 29 degrees of Libra and Aries.
Breakdowns vs. Breakthroughs
Breakdowns:
WE are currently witnessing the long predicted "end of the world" for many of the world's people. WW I and WWII were thought to be world-ending events. Although we are not really in WW III, revolutionary wars and civil meltdowns are erupting in Syria, Egypt, Libya, Iraq, Yemen, So. Sudan, Afghanistan, Venezuela, Thailand, and most recently, the Ukraine.
Here in the U.S., we are finally waking up to the nightmare of the failure of an economy that subsidizes an upper class that is a "winner-take-all" story with the rest of the citizenry losing their jobs, homes, pensions, and infrastructure that took about 100 years to build. Obstructionism in Washington is thought by many to be at an all-time high. So many are "bought out" by big money that the few that are there really working for the good of the people are often marginalized by lack of funding. The "script" issued to the media is that children (in need of food, shelter and education), the elderly (in need of social security and healthcare), the disabled , and the poor are responsible for the giant federal deficits, while the so-called "job creating" banksters and heads of trans-national corporations who are wallowing in hundreds of trillions of dollars in hedge funds carefully "sheltered" in the Caymen Islands deserve to be tax exempt and complimented for their great success.
Once again, one of my favorite "truthsayers" Matt Taibbi has published a comprehensive article Feb. 12th in Rolling Stone entitled "The Vampire Squid Strikes Again: The Mega Banks' Most Devious Scam Yet", outlining the history, since 1999, (i.e. The Financial Services Modernization Act) of the deregulation of banking and financial industries that "would make possible a broader concentration of financial and industrial power than we've seen in more than a century." He points to a tiny provision in this bill that permitted commercial banks to delve into any activity that is "complementary to a financial activity and does not pose a substantial risk to the safety or soundness of depository institutions or the financial system generally."
Taibbi reports that: "Today, banks like Morgan Stanley, JP Morgan Chase and Goldman Sachs own oil tankers, run airports and control huge quantities of coal, natural gas, heating oil, electric power and precious metals. They likewise can now be found exerting direct control over the supply of a whole galaxy of raw materials crucial to world industry and to society in general, including everything from food products to metals like zinc, copper, tin, nickel and, most infamously thanks to a recent high-profile scandal, aluminum. And they're doing it not just here but abroad as well: in Denmark, thousands took to the streets in protest in recent weeks, vampire-squid banners in hand, when news came out that Goldman Sachs was about to buy a 19 percent stake in Dong Energy, a national electric provider. The furor inspired mass resignations of ministers from the government's ruling coalition, as the Danish public wondered how an American investment bank could possibly hold so much influence of the the state energy grid." Taibbi suggests: "Allowing one company to control the supply of crucial physical commodities and also trade in the financial products that might be related to those markets, is an open invitation to commit mass manipulation. It's something akin to letting casino owners who take book on NFL games during the week also coach all the teams on Sundays." I would strongly recommend you go out and buy this issue of Rolling Stone and read this article if you really wish to understand how our world is being swallowed up by the bankster coalition. In addition to all this, it has been recently reported that, in imitation of "The Wolf of Wall Street", Credit Suisse has been caught hiding $12 Billion from the IRS by secretly smuggling the money out of the U.S. (strapped to various body parts) to Switzerland. As I have predicted in past newsletters, more and more scandals will be uncovered concerning financial institutions and this will continue this year and next.
Our world that we thought was governed by the "rule of law" has already ended as the giant banks are exempt from meaningful regulation, with nobody authorized to prevent the next derivatives "crash". As I have reported again and again, well over $800 Trillion is being put into fancy and complex derivative contracts traded in nanoseconds on computers. The bull market in stocks has no support in reality with respect to price/earnings ratios. The housing market is showing signs of a slowdown. Growth is slowing in China, Brazil and many other emerging markets. None of us really know how long this can go on, but I propose that something will arrive on the scene this month that will warn of a potential series of collapses of monumental proportions. Whether the cartel will continue to control the media and manipulate the markets to hide the decay from within will remain to be seen.
Remember, also, as reported in this newsletter, that if a banking institution fails, there are international agreements that "bail ins" such as took place in Cyprus, would be allowed. This means that large depositors' and bondholders' money could be used to "bail out" the bank.
Meanwhile, back on multiple ranches, climate change is inserting itself into our lives while few governments are making any kind of effort to create an infrastructure to protect their populations. Global climate that has been extremely hospitable to human life for thousands of years is coming to an end due primarily to human mass consumption of carbon fuels. Severe weather events will continue this month to remind us of this fact.
Breakthroughs:
Governors and legislatures of many states, weary of Washington, are taking action; raising the minimum wage, encouraging environmentally favorable forms of energy, boosting entrepreneurship, etc. California, in the midst of a mega-drought, is instituting water conservation and recycling laws and regulations. Local community supported organic farms are growing. Passive architecture for buildings that would need little or no central heat or air conditioning is being considered. Tesla Motors is inspiring other car companies to go "all electric". There is a significant increase in the use of high tech solar panels since they are now affordable and cost effective.
I think that this month and April will present a major scientific breakthrough in physics and energy. I have predicted, for some time, that we would have nuclear fusion between now and the 2020s. By then, it will be the "death knell" for the age of fossil fuels and its companion, plutocratic capitalism, whose controllers will have fallen on their own sword. I also think announcements are likely to be made this month with respect to medical breakthroughs in the treatment of AIDS and cancer. During the last transit of Neptune in Pisces, modern medicine was developed in the 1800s. This present transit of Neptune will revolutionize medicine and will include applications using energy, i.e. magnetism, electrical currents, and light therapies all in concert with the coming Aquarian transits. We are also in the process of recognizing the health-destroying effects of certain GM grains and processed food and eliminating them from our diets. The lid is now "off" on industrialized farming.
The Economy:
I am continually amazed when the financial markets rise after a series of negative reports. Even the reporters, themselves, admit that there seems to be no apparent reason. A few individual corporations that show great promise certainly should show investors moving into their stock. Some movement is generated by acquisitions and mergers moving the stock of the one being acquired by the larger company. In recent years, as discussed above, stocks and commodities are manipulated by the hedge funds and giant banks. If the stock market moved in connection to the real potential for profit and healthy earnings, we would have real "free market capitalism". This is an ancient memory.
My take is that the grand cardinal cross coming up in April and the Pluto/Uranus/Jupiter T-square taking place this month should shake down markets, especially since they land right on the U.S. Sun/Saturn square. The economy of Main Street shows infrastructure decay, chronic unemployment, and a nation in a political gridlock of major discontent. Where over-regulation by the government is most unfortunately taking place is in connection to small enterprises that are the "life blood" of the nation. The challenge to the forecaster is that these markets seldom move within any connection to the economic realities that surround us. Only those on the informational "inside" of the banking giants would be able to predict the markets in this environment. Thus, the downward movement that I see between now and April, may be manipulated to avert disaster. I do see a strong stock market in May, with the Jupiter/Saturn harmonious trine. I have to mention Japan since their chart is getting hit heavily this month into April. Both their economy and their landmass may be quaking this month.
Gold moved up fairly strongly since Venus went direct in Capricorn the end of January. I am not sure it will continue moving up this month, but I am looking for some strong upward mobility when Jupiter goes into Leo (July 16, 2014 – August 11, 2015). Currencies are extremely unstable in this cycle. Even the Bitcoin surge seems to be dying out. China does not intend for the Yuan to replace the dollar as a global currency, but is trading with many of its partners in its own currency. I think the IMF and the World Bank wish to move in the direction of a global currency that is no longer the dollar and is not any other local currency. It will take a long time for this to happen. So many nations are in civil wars, overthrowing their governments, that financial destabilization is the order of the day. This atmosphere would lead people to buy gold and hold it, as China and Russia have recently done. Criminal transactions have been taking place behind the scenes for many years concerning buying, selling, and "swapping" gold in an attempt to manipulate the price of gold. I think gold and silver will eventually go where they honestly should be with respect to supply and demand, which is a lot higher than it is now.
I mentioned last month that the Chart of Russia is being hit heavily this year. The revolution in the Ukraine has stirred up Vladamir Putin and he is apparently assimilating troops on the border. We could see old "Cold War" conflicts reactivated. This part of the world resides on oil and coal deposits and various pipelines. This is an old story.
Weather and Mother Nature:
Between the 7th and the 12th, Mercury is square Saturn again. This would indicate another severe Winter storm hitting the U.S. I am in agreement with the groundhog this year, i.e. that Winter is continuing strongly through this month. With Mars going retrograde at 27 degrees of Libra, the drought in So. California continues.
Final Thoughts:
It is hard to find our spirit in these turbulent times. The world we knew is dissolving around us into the fires of war, the mists of a changing climate, and the dehumanizing current philosophy of mechanistic materialism which would deny the existence of spirit altogether. Witness the recent notion that computers and robots will soon "replace" us.
It is hard to find our hearts in these times that rewards selfishness and promotes a deification and glorification of narcissists who currently rule the world of big money and finance. Certain pundits on the media and in politics love to blame the poor, ethnic and racial minorities, the elderly, and the disabled for their collective fates and make their careers beating up this very large segment of the human population.
It is hard to find our minds in an age of seeming insanity. More and more people are getting a "diagnosis" and moving into the world of prescription drugs as they are simply unable to cope with their lives "falling apart". Many of our "diagnosed" children are shooting each other in movie theaters and schools. Many of our "diagnosed" veterans are returning from the nightmare of war, broken in both mind and body.
The tide is beginning to turn. Spirit is asserting itself. Our hearts are beginning to wake up in love again. Our minds are beginning the long journey back to sanity by reclaiming their connection to spirit and heart and all the rest of us reaching out to one another as a new resonance is felt by a few, and then millions. The future is arriving and is unstoppable.
Linda
Linda Schurman
Note: I welcome all your comments whether they are critical or complimentary. This site represents astrology as a tool for a deeper understanding of the themes and issues of our times. This period in which we all live may be the most critical time for human civilization ever! It is my wish that we all do our best with whatever talent we have been given, to further the survival and evolution of life on planet earth!
our email is: soothesayer@usa.net
<![if !vml]>
<![endif]>
Linda has been a guest multiple times on "Coast to Coast AM with George Noory".
<![if !vml]>
<![endif]>
Linda on "YouTube"
http://www.youtube.com/watch?v=hXSHfbMRlco&feature=youtu.be
To Book Individual or Business Consultations with Linda Schurman...
Email: soothesayer@usa.net Voicemail: (607) 273-1312

(leave your name & phone#, she will get back to you as soon as possible)
My book "What Next? A Survival Guide to the 21st Century" is in print. It is on sale on through my publisher.....
Click here to buy
I have been working steadily on this publication for nearly four years. The research I have done has been a "wake-up call" for me as I have tracked the historic trajectories that have led us to where we are now: at the critical point of choosing either extinction or illumination.
However, I am greatly encouraged at discovering that many people are developing new and innovative technologies that can solve the coming energy crises and are conceiving of new, more egalitarian economic systems and societal transformations. These pioneers may help us to navigate this "age of transition" from cannibalizing our planet to living in concert with the earth and each other.
Our journey through the great constellations has taken us to this place in time, this powerful historic point, this great challenge to human survival and evolution. It will take great courage on all our parts to open our hearts and minds to the level of truth needed to fulfill the great prophecies given to us through the ages. I think we can do it!
---
WHAT NEXT?
A Survival Guide to the 21st Century
Since the turn of the Millennium, the volume has been turned up. Global warming, species extinction, economic catastrophe, political and corporate corruption, terrorism and war all shout for our attention on a daily basis.
"What Next?" calls for a stop to the insanity. Author, Linda Schurman explains the history of our times that led us into this seemingly uncharted territory, by actually charting the planets and their personal message to each and every one of us. She offers an unflinching diagnosis of humanity's current descent into the "end times" so often referenced in books of prophecy. Her message informs us we do not have to be casualties; that rather than marching toward the "age of extinction", we may be entering the "age of transition".
Ms. Schurman has been predicting our predicaments for over thirty years. She highlights how to survive and thrive financially within an entirely new context. She illustrates how we will likely invent our way out of the looming energy crises. Her insights shed light on how to restore health to the earth, inspiration to the individual, and meaning to the community. She answers the question we are all asking: "What can we do now?"
____________________
About the author:
LINDA SCHURMAN has had a private practice in astrology for over thirty- four years. She serves an international clientele that includes corporations, financial service companies and private individuals. Linda holds a B.A. in English and Education and is the author of numerous articles. She is currently editor and publisher of the newsletter "The SootheSayer" which is in print and online at (http://soothesayer.com). A long-standing member of the National Council for Geocosmic Research, she has appeared on radio and television. A mother to five grown children and grandmother to six, she resides in Ithaca, New York.
Click here to buy
---
Reviews
---
The Mountain Astrologer is recognized as the best astrology magazine in the world.
http://www.mountainastrologer.com/book_rvu/rvu2008/rvu808.html
What Next? A Survival Guide to the 21st Century, by Linda Schurman, Lazer Lady Publishing, Inc., 2505 Anthem Village Dr., Ste. E-165, Henderson, NV 89052 USA, 2007. Softcover—164 pp.—$15.95 (ISBN 978-0-9796900-2-0). Available from: www.lazerladypublishing.com
Linda Schurman has maintained a private practice in astrology for more than 34 years. She is also a studious observer of the larger world stage, including domestic and global politics, climate change, financial markets, and social justice.
What Next? A Survival Guide to the 21st Century is a concise book that addresses the daunting issues of our time. This book is clearly written for non-astrologers. The specific astrology in the text is minimal; however, the author offers an educated view of the challenges we all face. The information, though directed to the general public, provides a timely and useful context for the concerns that clients bring to practicing astrologers every day.
The first chapter, "Pluto in Sagittarius (Nov. 1995 – Nov. 2008)," sets up the immediate background of where we are now by recapitulating the big themes of these years — Globalization, Financial Speculation, Religion, Law, Education, and the Media.
The next three chapters cover a similar range of themes and are organized around the outer planets' transits: Uranus in Pisces (Mar. 2003 – Mar. 2011); Neptune in Aquarius (Jan. 1998 – Feb. 2012) (Septile Pluto 2001 – 2011); and Pluto in Capricorn (2008 – 2024), Uranus in Aries (2011 – 2018), Neptune in Pisces (2011 – 2026).Schurman also writes on the upcoming Jupiter–Saturn conjunction in Aquarius (Dec. 2020)and offers a chapter on "Sedna — A Planet of the 21st Century." Although the book is organized by astrological motif, and there are key astrological charts in the Appendices, the body of the text is informed by the work of (non-mainstream) journalists and economists.
Given the subject matter, Linda Schurman's book has a necessarily unflinching tone; she diligently refers to research on global warming, the energy crisis, corporate and political corruption, and other such matters. This author writes a large story in accessible language. She combines a view of the forces at work in the greater world with a positive and practical set of ideas for managing life in these often overwhelming times. For example, Schurman makes "prophecies" and suggestions throughout the book: Chapter 4 contains sections on the Worst-Case and Best-Case scenarios, as well as "The Quiet Revolution — Moving into the Solution" and "New Frameworks of Consciousness." Chapter 3 includes some investment recommendations and has a special section on solar design.
Linda Schurman is facing reality and yet also holds an impressively hopeful vision for the future. If you feel confused by the complexity of the times, her book will help you to sort out what has happened, who is responsible — and what we can do now (as she writes in the Introduction) to help ourselves become "able to 'invent' our way out of even the most profound set of challenges."
— reviewed by Mary Plumb
---
by K. Diaz
A Practical and Spiritual Survival Guide for the 21st Century, September 12, 2007
There are several doomsday books that have been written that question our ability as a species to survive the threat of global warming, the impending energy crisis and a world that is imploding with new super bugs and looming pandemics, all of which are eventually guaranteed to wipe out civilization as we know it. This book, written by a well-renowned and incisive astrologer, not only points out the harsh truth about what the future holds for our planet and its people should we decide to continue our xenophobic thinking and behavior; it also provides hope through concrete scientific information, backed up by several references from well-respected professionals in their specific fields. The author also shows, through previous astrological patterns, how we are destined to repeat our mistakes with much graver consequences unless we choose to raise our consciousness in a way that connects us with every thread that runs through the universe and to realize that we all individually and collectively play a part in the future of our Mother Earth. The message that she brings to the table is that we are all our brothers' keepers. The book is concise and easy to read without the usual technical vernacular used in most astrology books, although it provides charts of nations and events to prove her points to the astrology student or professional. A beautifully written book that provides hope for change and a different future for our children and grandchildren in a world currently devoid of compassion and understanding for one another.
---
Bonnie Neely
Important NOW Book, August 28, 2007
What Next? by Linda Schurman is an astute account of the world's affairs, political, ecological, and economic, as they are today. Linda, a well-known astrologer makes dire predictions about where we are headed as a world, but she emphasizes it is up to us...we have choices, because although the planets and heavens have patterns that are read as given proclivities to certain events, they are not absolute because mankind's will can change events or prevent some. The book is important reading for our time, because we are running out of time for changing our fate. For professionals, Shurman gives official astrological charts to back up all her predictions. For the general public, we need this book to wake us up to what will likely happen if we don't act now. A MUST READ! I highly recommend this book.
---
Click here to buy
Dealing in securities and/or futures contracts has inherent risks. Profits might be made but losses might also be incurred. No assurance of profits can be given, or should be taken to be given, in any way. Prospective investors/traders should be aware of the potential risks of investment in securities and/or futures contracts and should only make the decision to invest, or trade, after careful consideration and performing due diligence. If you are in any doubt as to any aspect of dealing in securities and/or futures contracts, you should consult a licensed investment adviser, securities dealer, futures broker or a person who is qualified and/or licensed to give such advice.
Linda Schurman and/or Richard Schurman as SootheSayer, and its contributors, is not qualified or authorized/licensed to give investment advice, securities recommendations or futures trading advice. If you wish to obtain investment advice or securities/futures recommendations, you should consult a licensed investment adviser, securities dealer or futures broker. You should not regard any comment or expression of opinion of SootheSayer, or its contributors, as investment advice or securities recommendations; nor should you act upon any investment advice given or securities/futures recommendations made to you by a person who is not qualified or licensed to give such advice or to make such recommendations.
The information herein is for educational purposes only. SootheSayer, its contributors, and/or their assigns make no guarantee, that even with the best education and guidance available, you will become a successful trader or wealthy. Neither the presenter, Publisher, or Distributor can assume any losses that may be incurred by the use of the methods described herein and any such liability is hereby expressly disclaimed.
---
Click here to buy
What Next?
A Survival Guide to the
21st Century
more...

Click here to buy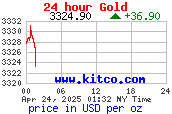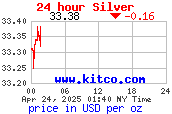 "One hundred thousand lemmings can't be wrong."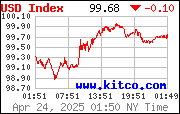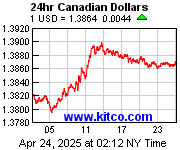 (How much CAD to buy 1 USD)
Quotes are for information only and delayed by at least 20 minutes.
following are six links that, over time, offer excellent insights into the financial crises we need to understand
_______
We will be recommending and/or
mentioning other books from time to time, therefore, for your convenience, we have established an association with.....

Our friend, Eldon Taylor has launched a new book....
Following provides an effective course for starting an online business.
__ _______
_______