---
MEDIA CONTACT
Linda Strick,
Perfect P.R.
(310) 452-0186
Email:
perfectprforyou@gmail.com
---
Survive on your own terms
updated 8/13/2007
An extension of resource to complement solutions set forth in Linda's book "What Next?"
____________________
____________________
Personal
Insights:
THE SOOTHESAYER INTERNET NEWSLETTER
Linda Schurman
Editor and Publisher
Important Points of Reference (for astrologers):
Full Moon at 14 degrees Taurus on Nov. 6th trine and sextile Pluto, New Moon at 00 degrees Sagittarius on November 22nd, Mars is conjunct Pluto square Uranus on Nov. 11th, Venus is conjunct Saturn on Nov. 13th, Mercury is conjunct Saturn on Nov. 26th, Venus is trine Uranus on Nov. 27th. Mars transits the sign of Capricorn Oct. 27th through Dec. 5th.
Let's Get Real: Mars transits Capricorn
The optimistic miasma around the stock market, the economy in general, and the myth of stable fiat currencies is breaking up following all the bad news about the falling GDPs around the world, October's selling in the stock market (predicted in this newsletter), and the emerging facts about severe financial inequality around the world and here in the USA. Of course, The Cartel moved financial markets back upward and sank gold and silver, demonstrating fully to what extent markets are shamelessly manipulated.
The triumph of the 1% is even concerning the 1% as both Warren Buffet and Bill Gates are now expressing concern about growing inequality, both financial and in terms of opportunity. Federal Reserve Chair Janet Yellen has expressed the same concerns, which is about the only thing that has shaken the banksters. The Ebola epidemic, the result of crushing poverty in Western Africa and almost no public health system there, has crossed the ocean into the U.S. reminding us that the Congress cut the budget in the public health system by 52% and the legislators have not even voted to approve Pres. Obama's nominee for Surgeon General. When Saturn changes into Sagittarius Dec. 23rd through June 18th, the epidemic should diminish, only to return when it retrogrades back into the critical degrees of Scorpio until September 17th, after which it should die down.
The "people-at-large" have been royally screwed by the current royals; the banksters and heads of trans-national corporations who are openly manipulating financial markets, escaping taxation and avoiding the rule of law. Of course, they are doing what all royals eventually do and that is they are playing roulette with a system that will eventually collapse, and the debris will fall on rich and poor alike.
However, Switzerland, long a financial and banking giant, noted for its independence, has already rejected EU membership. In an article by Egon von Gryerz on King World News on Oct. 11th, he reports: " On November 30th, the Swiss people have the opportunity to determine not just the fate of their own financial system but also to be the catalyst for the return to sound money in the Western World. They will do this in a referendum on the 'Gold Initiative' which has three demands: 1) returning the gold held abroad (in Canada and the UK) to Switzerland, 2) the Swiss National Bank must hold 20% of their assets in physical gold, 3) no further gold sales." It is worth reading the whole article to get a perspective with respect to this decision. The Swiss banks are fighting this tooth and nail as are the global financial giants, since, as von Greyerx states, "a currency backed by gold means the government and the central bank cannot manipulate the currency at will and print worthless pieces of paper that they call money." Nov. 30th shows the transiting Moon in Pisces and Mercury forming a square with Neptune. Thus, this particular vote could generate a lot of confusion and delay a clear and objective decision. However, just recently, the powers-that-be have closed the accounts of contributors to this effort, once again circumventing democracy and the rule of law.
The bearish planetary aspects in the stock markets this month will make it very difficult for the Cartel to continue its manipulations and cover-ups. The Mars in Capricorn could favor an upswing in gold as a response to the global instability in currencies. China has been on a gold buying spree with the objective of creating confidence in their currency and replace the dollar in world trade. It will be interesting to see to what lengths the bankster/Fed partnership will go to continue the derivatives machinations that deny all the realities on the ground and benefit the few at the top of the food chain to the expense of the rest. The Europeans are terrified of deflation, since oil and gas prices have been dropping and people are generally buying less.
The Middle East:
With all the Saturn aspects this month and Mars transiting Capricorn, the current governments in Syria, Iraq, Libya, and Saudi Arabia will fight hard to maintain their status, intensifying the conflicts in the region. Ground troops may go into the Iraq/Syria border to fight ISIS, whose leadership may be in trouble. Turkey has finally announced it will allow Kurds from Iraq to supply ground troops to fight the terrorists. There is almost nothing in our news media concerning Saudi Arabia. This month's Mars transit is hitting their chart heavily, challenging the control of the monarchy. The U.S. is not being viewed positively and we are in a real bind, in that our "friends" are our "enemies".
There may actually be a deal negotiated between the Obama administration and Iran to end their nuclear arms program. Israel (who is having leadership crises of its own) and the U.S. Congress may both try to sabotage this effort.
Russia and the Ukraine:
Russia's attempt to control the Ukraine will likely run into trouble this month, as will Putin's credibility, as the transit of Mars in Capricorn is square his grouping of planets in Libra. They will likely amass more troops in the region. The current drop in oil prices is hitting Russia very hard, even though they have negotiated a deal with China.
Pres. Obama's chart, the Election, and Big Saturn:
Saturn is square the president's lunar nodes and Uranus this month, and will hit his Midheaven in December. As Saturn reaches a critical degree of 28-29 Scorpio, crises and tensions escalate in Washington which is gridlocked following the election. This degree, historically, has been associated with dangers to many leaders in the world, especially to U.S. presidents. Pres. Obama has insulated and surrounded himself by a relatively small group of trusted advisors, has problems communicating with Congress in general, and has had to deal with Republicans in the legislature that have blocked him at every turn. I would call this period a "crisis in his presidency".
I do not know how the election will turn out per se, because I would have to have the astrological charts of every candidate in the race. However, if we were to judge anything from the transit of Saturn in Pres. Obama's chart, it will likely make things even more difficult for him.
Weather and Tectonics:
Between the 9th and the 11th, Mars is conjunct Pluto square Uranus and Mercury is square Neptune (which goes direct on the 16th ) on the 20th. All this points to earthquake and volcano activity as well as some pretty severe storms and the chance of explosions and fires. There is, at present, a big volcanic eruption in Hawaii. Weather will likely be cold and wet most of this month, especially in the north and east in the U.S. Nov. 1st and 2nd shows milder weather than later in the month as Mercury is sextile Jupiter, so enjoy this while you can.
The Nobel Prize:
Of all the winners of this honorable prize reported, the most underreported by the main stream media was the one awarded to the wonderful Malala from Pakistan. You may remember her story when, at age 14, the Taliban shot her in the face following her expressing in public that all women deserve an education. Malala fought for her life, recovered, became a spokesperson for the rights of women, and now, at age 17, is the youngest person in history to win the Nobel Prize for Peace. Instead of television news focusing relentlessly on Ebola, why could they not do a tribute to this courageous young woman who so deserves our attention and admiration?
Final Thoughts:
I am just old enough to remember when the U.S. had the best reporting of news in the world. The newspapers, radio, and television reported real news regardless of which political party or corporate power whose actions they exposed. In the 60s and 70s, we saw protests on television. We heard from whistle blowers. Reporters poised cameras on the homeless and exposed poverty. Does anyone remember the Nixon Watergate reporting? Today, large populist protests are reported hardly at all. Tabloid stories are recycled over and over again to the extinction of significant stories from around the world, how our legislators really vote, what is really happening to the general population in this economy. Some call this media nothing more than a series of "infomercials" interrupted by commercials.
I get a lot of emails expressing appreciation for my information and observations that both include and go beyond the astrological configurations. I would like to recommend to you my most frequently used sources because these publications have the guts to report what is really going on. Rolling Stone Magazine, Vanity Fair Magazine, Scientific American, Truth Out.org, Common Dreams.org, Alter Net , and King World News. PBS and NPR are better than average sources, which include Front Line, Bill Moyers, and Charlie Rose shows that, in my opinion are outstanding. Amy Goodman's Democracy Now is excellent. I also watch Fareed Zacharia on CNN on Sunday mornings. All of my regular readers know I am a fan of Coast to Coast Radio on which I have been interviewed many times. George Noory is not afraid to let people express their views, especially if they stand in their truth and think outside the box. My astrological sources are Dell Horoscope and The Mountain Astrologer.
It is truly hard to face the truths we need to face today. Many people feel they have no power or control over events. This is a choice we make - a viewpoint, not an absolute. I see things going on at the grass roots level that are amazing. I know people who are brimming over with intelligence, passion, and commitment to a humanity that can change its nature from living a selfish and fearful existence to a renewed life filled with elevating insights, a shared prosperity, and a will to make an evolutionary leap in consciousness that leads toward a new human presence on planet earth. This may seem impossible to many, who have given up. I may be called an "idealist" whose private dreams and wishes ignore reality.
Anyone who has been reading my books and newsletters knows otherwise. We need to face the truths that lie before us, at all cost, before we can hope to reverse the suicidal direction humanity has taken. Once we see where we are, we may take a deep collective breath, access the power from within ourselves, open our minds to the cosmos, and recognize they are one and the same. We can do this.
Linda
Linda Schurman
see We've Gone Solar! "Late News"
Note: I welcome all your comments whether they are critical or complimentary. This site represents astrology as a tool for a deeper understanding of the themes and issues of our times. This period in which we all live may be the most critical time for human civilization ever! It is my wish that we all do our best with whatever talent we have been given, to further the survival and evolution of life on planet earth!
our email is: soothesayer@usa.net
This Spring, Dick and I had a grid-tied Solar Panel system installed on our house. We like the idea of being "part of the solution"... plus it's fun, exciting, and interesting. Best of all, we chose the most popular leasing plan (no down payment). The monthly payments indirectly provide us with a significant portion of our electric energy at a rate lower than that of our utility. Our plan involves fixed payments. Initial savings are not huge but as inflation of utility rates rears it's ugly head we expect to benefit quite a bit.
A high quality local installer was engaged by Sungevity, our provider. It was cool to see engineers with advanced graduate degrees working on our roof. If you wish to learn more and get a free quote, click on http://www.sungevity.com/get-your-iquote?referral-code=678055 . Look through the site, you will see that the referral code is a great deal for both the "refer-er" and the "referr-ee".
Several of you clicked for a free quote and were advised that Sungevity does not cover your area. We found that Sungevity operates in states that favor and provide incentives for residential and commercial solar installations. Here is a current list of these states... Arizona, California, Colorado, Connecticut, Delaware, Maryland, Massachusetts, New Jersey, and New York.
Late news!
<![if !vml]>
<![endif]>
Linda has been a guest multiple times on "Coast to Coast AM with George Noory".
<![if !vml]>
<![endif]>
Linda on "YouTube"
http://www.youtube.com/watch?v=hXSHfbMRlco&feature=youtu.be
To Book Individual or Business Consultations with Linda Schurman...
Email: soothesayer@usa.net Voicemail: (607) 273-1312

(leave your name & phone#, she will get back to you as soon as possible)
My book "What Next? A Survival Guide to the 21st Century" is in print. It is on sale on through my publisher.....
Click here to buy
I have been working steadily on this publication for nearly four years. The research I have done has been a "wake-up call" for me as I have tracked the historic trajectories that have led us to where we are now: at the critical point of choosing either extinction or illumination.
However, I am greatly encouraged at discovering that many people are developing new and innovative technologies that can solve the coming energy crises and are conceiving of new, more egalitarian economic systems and societal transformations. These pioneers may help us to navigate this "age of transition" from cannibalizing our planet to living in concert with the earth and each other.
Our journey through the great constellations has taken us to this place in time, this powerful historic point, this great challenge to human survival and evolution. It will take great courage on all our parts to open our hearts and minds to the level of truth needed to fulfill the great prophecies given to us through the ages. I think we can do it!
---
WHAT NEXT?
A Survival Guide to the 21st Century
Since the turn of the Millennium, the volume has been turned up. Global warming, species extinction, economic catastrophe, political and corporate corruption, terrorism and war all shout for our attention on a daily basis.
"What Next?" calls for a stop to the insanity. Author, Linda Schurman explains the history of our times that led us into this seemingly uncharted territory, by actually charting the planets and their personal message to each and every one of us. She offers an unflinching diagnosis of humanity's current descent into the "end times" so often referenced in books of prophecy. Her message informs us we do not have to be casualties; that rather than marching toward the "age of extinction", we may be entering the "age of transition".
Ms. Schurman has been predicting our predicaments for over thirty years. She highlights how to survive and thrive financially within an entirely new context. She illustrates how we will likely invent our way out of the looming energy crises. Her insights shed light on how to restore health to the earth, inspiration to the individual, and meaning to the community. She answers the question we are all asking: "What can we do now?"
____________________
About the author:
LINDA SCHURMAN has had a private practice in astrology for over thirty- four years. She serves an international clientele that includes corporations, financial service companies and private individuals. Linda holds a B.A. in English and Education and is the author of numerous articles. She is currently editor and publisher of the newsletter "The SootheSayer" which is in print and online at (http://soothesayer.com). A long-standing member of the National Council for Geocosmic Research, she has appeared on radio and television. A mother to five grown children and grandmother to six, she resides in Ithaca, New York.
Click here to buy
---
Reviews
---
The Mountain Astrologer is recognized as the best astrology magazine in the world.
http://www.mountainastrologer.com/book_rvu/rvu2008/rvu808.html
What Next? A Survival Guide to the 21st Century, by Linda Schurman, Lazer Lady Publishing, Inc., 2505 Anthem Village Dr., Ste. E-165, Henderson, NV 89052 USA, 2007. Softcover-164 pp.- $15.95 (ISBN 978-0-9796900-2-0). Available from: www.lazerladypublishing.com
Linda Schurman has maintained a private practice in astrology for more than 34 years. She is also a studious observer of the larger world stage, including domestic and global politics, climate change, financial markets, and social justice.
What Next? A Survival Guide to the 21st Century is a concise book that addresses the daunting issues of our time. This book is clearly written for non-astrologers. The specific astrology in the text is minimal; however, the author offers an educated view of the challenges we all face. The information, though directed to the general public, provides a timely and useful context for the concerns that clients bring to practicing astrologers every day.
The first chapter, "Pluto in Sagittarius (Nov. 1995 - Nov. 2008)," sets up the immediate background of where we are now by recapitulating the big themes of these years - Globalization, Financial Speculation, Religion, Law, Education, and the Media.
The next three chapters cover a similar range of themes and are organized around the outer planets' transits: Uranus in Pisces (Mar. 2003 - Mar. 2011); Neptune in Aquarius (Jan. 1998 - Feb. 2012) (Septile Pluto 2001 - 2011); and Pluto in Capricorn (2008 - 2024), Uranus in Aries (2011 - 2018), Neptune in Pisces (2011 - 2026).Schurman also writes on the upcoming Jupiter-Saturn conjunction in Aquarius (Dec. 2020)and offers a chapter on "Sedna - A Planet of the 21st Century." Although the book is organized by astrological motif, and there are key astrological charts in the Appendices, the body of the text is informed by the work of (non-mainstream) journalists and economists.
Given the subject matter, Linda Schurman's book has a necessarily unflinching tone; she diligently refers to research on global warming, the energy crisis, corporate and political corruption, and other such matters. This author writes a large story in accessible language. She combines a view of the forces at work in the greater world with a positive and practical set of ideas for managing life in these often overwhelming times. For example, Schurman makes "prophecies" and suggestions throughout the book: Chapter 4 contains sections on the Worst-Case and Best-Case scenarios, as well as "The Quiet Revolution - Moving into the Solution" and "New Frameworks of Consciousness." Chapter 3 includes some investment recommendations and has a special section on solar design.
Linda Schurman is facing reality and yet also holds an impressively hopeful vision for the future. If you feel confused by the complexity of the times, her book will help you to sort out what has happened, who is responsible - and what we can do now (as she writes in the Introduction) to help ourselves become "able to 'invent' our way out of even the most profound set of challenges."
- reviewed by Mary Plumb
---
by K. Diaz
A Practical and Spiritual Survival Guide for the 21st Century, September 12, 2007
There are several doomsday books that have been written that question our ability as a species to survive the threat of global warming, the impending energy crisis and a world that is imploding with new super bugs and looming pandemics, all of which are eventually guaranteed to wipe out civilization as we know it. This book, written by a well-renowned and incisive astrologer, not only points out the harsh truth about what the future holds for our planet and its people should we decide to continue our xenophobic thinking and behavior; it also provides hope through concrete scientific information, backed up by several references from well-respected professionals in their specific fields. The author also shows, through previous astrological patterns, how we are destined to repeat our mistakes with much graver consequences unless we choose to raise our consciousness in a way that connects us with every thread that runs through the universe and to realize that we all individually and collectively play a part in the future of our Mother Earth. The message that she brings to the table is that we are all our brothers' keepers. The book is concise and easy to read without the usual technical vernacular used in most astrology books, although it provides charts of nations and events to prove her points to the astrology student or professional. A beautifully written book that provides hope for change and a different future for our children and grandchildren in a world currently devoid of compassion and understanding for one another.
---
Bonnie Neely
Important NOW Book, August 28, 2007
What Next? by Linda Schurman is an astute account of the world's affairs, political, ecological, and economic, as they are today. Linda, a well-known astrologer makes dire predictions about where we are headed as a world, but she emphasizes it is up to us...we have choices, because although the planets and heavens have patterns that are read as given proclivities to certain events, they are not absolute because mankind's will can change events or prevent some. The book is important reading for our time, because we are running out of time for changing our fate. For professionals, Shurman gives official astrological charts to back up all her predictions. For the general public, we need this book to wake us up to what will likely happen if we don't act now. A MUST READ! I highly recommend this book.
---
Click here to buy
Disclaimer
Dealing in securities and/or futures contracts has inherent risks. Profits might be made but losses might also be incurred. No assurance of profits can be given, or should be taken to be given, in any way. Prospective investors/traders should be aware of the potential risks of investment in securities and/or futures contracts and should only make the decision to invest, or trade, after careful consideration and performing due diligence. If you are in any doubt as to any aspect of dealing in securities and/or futures contracts, you should consult a licensed investment adviser, securities dealer, futures broker or a person who is qualified and/or licensed to give such advice.
Linda Schurman and/or Richard Schurman as SootheSayer, and its contributors, is not qualified or authorized/licensed to give investment advice, securities recommendations or futures trading advice. If you wish to obtain investment advice or securities/futures recommendations, you should consult a licensed investment adviser, securities dealer or futures broker. You should not regard any comment or expression of opinion of SootheSayer, or its contributors, as investment advice or securities recommendations; nor should you act upon any investment advice given or securities/futures recommendations made to you by a person who is not qualified or licensed to give such advice or to make such recommendations.
The information herein is for educational purposes only. SootheSayer, its contributors, and/or their assigns make no guarantee, that even with the best education and guidance available, you will become a successful trader or wealthy. Neither the presenter, Publisher, or Distributor can assume any losses that may be incurred by the use of the methods described herein and any such liability is hereby expressly disclaimed.
---
Click here to buy
What Next?
A Survival Guide to the
21st Century
more...
Click here to buy
_______
If you would like to have a session with Linda, please contact her by email at soothesayer@usa.net
or call her at (607) 273-1312.
_______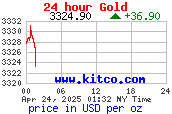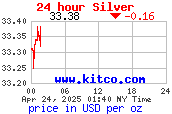 "One hundred thousand lemmings can't be wrong."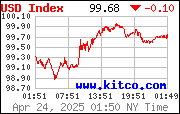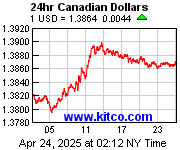 (How much CAD to buy 1 USD)
Quotes are for information only and delayed by at least 20 minutes.
following are six links that, over time, offer excellent insights into the financial crises we need to understand