.
.
.
|
.

CONTACT
(607) 273-1312
Email:
soothesayer@usa.net
---
MEDIA CONTACT
Linda Strick,
Perfect P.R.
(310) 866-1168
Email:
perfectprforyou@gmail.com
---
Survive on your own terms
updated
2/10/2016

An extension of resource to complement solutions set forth in Linda's book "What Next?"
____________________
____________________
Personal
Insights:

THE SOOTHESAYER
Linda Schurman
Editor and Publisher
"There are more things in Heaven and Earth, Horatio, than are dreamt of in your philosophy."
.....from Hamlet by Shakespeare
♦♦
♦
♦
September 2017
♦
Important Points of Reference for Astrologers:
Full Moon at 13 degrees Pisces conjunct Neptune and inconjunct Venus on Sep. 6; New Moon at 27 degrees Virgo square Saturn and inconjunct Uranus on Sep. 20; Mercury goes direct trine Uranus Sep. 4th; Venus in Leo is trine Saturn Sep. 12; Venus is trine Uranus Sep. 17; Mars enters Virgo Sep. 4, is opposition Neptune Sep. 24th, and I trine Pluto Oct. 1; Venus enters Virgo Sep. 20 and is opposition Neptune on Sep. 29; Jupiter is trine and sextile the lunar nodes between Sep. 1 and 11 and is opposition Uranus between Sep 25 and Sep. 30.
Hurricane Harvey and the Great Eclipse
Last month's Solar Eclipse was followed by the worst hurricane and ensuing flood to hit the coast of Texas in known history. Like Hurricane Sandy in 2012, the size of the destruction was unprecedented in terms of the flooding rains that just kept coming. Climate scientists have warned that CO2 induced global warming would result in hurricanes becoming larger and more destructive, fed by ocean "hot spots" that has the net effect of "feeding" the storms. Astrologers have often observed natural events of a critical nature following great eclipses. I thought it might be an earthquake, but instead it was followed by this flood of biblical proportions.
What has struck me, however, is the courage, determination, and heroism of the amazing people of Texas who have been rescuing flood victims – whole families including children, elderly and disabled folks, pets, and we watched it all on television throughout the day and night. They continue to tirelessly do whatever it takes to save lives. They will be faced with the costs to restore their land and property for a very long time. My prayers go out to all these people.
Hard-hit Houston is the largest refining and petrochemical complex in the U.S. and the hurricane's impact on oil refineries and superfund sites will be with us for months and even years to come. My hope is that this will be a wake-up call to all of us and result in the effort to mobilize our civilization to invent and install sustainable energy infrastructures here and around the world.
Mercury is going direct at 28 degrees Leo, the eclipse degree, Sept. 4th trine Uranus. This would suggest that more hurricanes will be developing this month and into October. We will soon see the impact and extent of damage all this will make.
Going Nuclear
(Mars, Mercury and Venus trine Uranus)
Preceding last month's grand solar eclipse at 28 degrees Leo, trine Uranus, on Pres. Trump' ascendant and natal Mars (the God of War), No. Korea's military demonstration off the coast of Guam set the president off in a direction that scared a lot of people. Trump unleashed a tirade at the No. Korean leadership threatening consequences "never seen before" that has fanned the flames that some believe could lead us into war. Most experts in this region expect that No. Korea has or will have a nuclear weapon and now has the rockets to launch them. They are waving red flags in our collective faces as they have before, but their progress with this technology under the authority of a dictator in charge who is a sociopath, opens our eyes to the danger of nuclear war and mutual assured self -destruction. All of this began in August 1945 when the U.S. dropped two atomic bombs on Japan to put an end to WWII.
In an article in July in the LA Times by Susan Southard, it was revealed that the UN has warned that there are at least 15,000 nuclear weapons in the world. For 72 years, the world has been living with nuclear bomb tests (whose radioactive dust is still circulating around the earth) and Cold War buildups of nuclear bombs that, in spite of treaties and disarmament agreements, are still alive and well. The U.S. is thought to have the most, with Russia and China prominent in this lineup. India and Pakistan are nuclear nations with weapons pointed at each other and Iran is thought to have them, although the inspection agreement signed under the Obama administration may have slowed their progress (Trump now wants to end this agreement). There are those who report that Israel may have nuclear weapons sold to them by the U.S.
Uranus was discovered in 1781 (in the sign of Gemini) at an historic period that coincided with the American Revolution, the French Revolution and the Industrial Revolution. Each time Uranus has returned to this sign, America has engaged in a major war – first, the initial American Revolution, then the Civil War, and lastly, WWII. Since Uranus "rules" scientific genius and breakthroughs, these wars were followed by astounding progress in science and technology (atomic energy rose out of WWII) that continues to accelerate into our times. Uranus will transit its "discovery" sign of Gemini from 2025 to 2033.
Nuclear fission plants were erected and developed throughout the U.S. and much of the world and sold as a "clean" energy alternative to coal, oil and gas. In recent years, due to the catastrophic accidents at Chernobyl and Fukushima, combined with old plants currently leaking toxic uranium, radioactive cesium, tritium, and plutonium surrounding the regions where these plants are located, we are confronted with consequences we have barely begun to address.
In an article in www.truthout.org, author Dahr Jamail wrote an article entitled "Fukushima Plant is Releasing 770,000 Tons of Radioactive Water Into the Pacific Ocean." He reports: "When Japan's Fukukshima Diichi nuclear plant suffered a triple-core meltdown in March 2011 as the result of a devastating earthquake, most people had no idea this was only the beginning of a nuclear disaster that has arguably become the single worst industrial accident in human history." Apparently, TEPCO announced it would dump 770,000 tons of radioactive tritium water into the Pacific Ocean, setting off fishing industries and environmental groups across Japan. He goes on to report: "According to Mozhgan Savabieasfahani, an environmental toxicologist and winner of the 2015 Rachel Carson prize, their outrage and alarm is not without merit. 'The release of thousands of tons of radioactive tritium by a giant utility company into our aquatic and natural environments is a blood-chilling prospect.' She goes on to say: 'Where are the defenders of our public's health? If they could pull the plug out of their mouth, they could tell us that tritium is a toxic radioactive isotope of hydrogen, and that, once released, tritium cannot be removed from the environment. Let that sink in.' Jamail goes on to report: "Takashi Kawamur, TEPCO's chairman, when asked about the decision to introduce this vast amount of radioactive water into the ocean, initially responded: 'The decision has already been made.'" I would recommend reading the article in its entirety. This is another consequence of the "dark side" of many of today's corporate industrialists – to put profits before lives.
Hope Springs Eternal:
In many issues of this newsletter, I have continued to report the amazing progress in the development of the "Holy Grail" of energy production that is nuclear fusion. I am of the opinion that when Uranus returns to its "discovery" sign of Gemini from 2025 to 2033, there is a high probability that we will have developed fusion along with an infrastructure that could produce expansive amounts of energy around the globe with no pollution. The "solar revolution" has already begun and solar panels are being installed in many nations, especially desert areas that get the most sun. Windmills are also going up as a supplement to solar. The "perfect battery" will be developed not only for Elon Musk's Tesla, but to store the energy produced by solar and windmill farms. It can't come too soon. NOAA recently reported that we have the highest concentration of CO2 in the air in 800,000 years!
No nation has used a nuclear weapon against a perceived "enemy" since 1945. We have had many near catastrophes. The most widely known was the so-called Cuban Missile Crisis in which then President John F. Kennedy negotiated with Russia to end what could have been WW III. It is unpredictable what Donald Trump and Kim Jong Un will decide. Mercury goes direct this month on the 4th exactly on the solar eclipse point and trine Uranus. This is an opportunity for innovation and a more unified collective consciousness with greater insights into the social fabric of our times. Let us hope that common sense will prevail. Let us further hope that we turn our "swords into plowshares and our spears into pruning hooks". Let us hope!
The Economy:
On Sept. 4, Mercury goes direct on the recent Solar Eclipse degree of 28 degrees Leo and is trine Uranus. This points to some optimistic news concerning technology corporations and new innovations. Jupiter will trine and sextile the Lunar Nodes from Sept. 1 to 11 and will be opposition Uranus Sept. 25 – 30. As we go into the October through December period and planets transiting Virgo with Saturn moving to the galactic center, I expect a significant "correction" and possibly a "crash" on Wall Street. This month contains the last sextile between Jupiter and Saturn that has been behind this Bull Market Cycle. By October, this protective aspect is over. The last time Saturn transited the galactic center was in 1987 when the biggest "crash" since 1929 hit Wall Street. Pluto transited this area in 2008. U.S. sovereign wealth debt is now over $20 trillion. The cost of Hurricane Harvey and its damage will be in the tens of billions. The dollar has been sinking. The White House offers up a daily 'freak show" to the American public, has made enemies everywhere, and is unlikely to get a tax reduction package through. I do think Congress will agree on a budget, will extend the "ceiling" and not close down the government.
The notion that China's economic expansion will fuel our economy will be tarnished this month. They are deeply in debt, and invested in giant projects that are "going broke." When we "trade" with China, they steal our technology and produce it cheaply themselves, which should discourage this exchange. As Saturn transits into Capricorn from the end of Dec. this year through Dec. 2020, they will have currency problems, issues with No. Korea, and will have a severe recession in their own nation to contend with.
I will discuss this more fully in the October newsletter.
Other Nations:
I am really concerned about No. Korea this month and into October. They recently launched more missiles aimed at Japan. We dropped some bombs as a military exercise on their border with So. Korea. Everybody is waving their swords. The transits in Virgo activate last year's eclipses in the charts of the Koreas. The U.S needs to exercise secret diplomacy to keep us from the brink of war. China needs to be involved and there is evidence they are quietly in negotiations. Whether they will work is questionable.
Iran, according to our own security and surveillance institutions, has conformed to the Nuclear Inspection Agreement signed under the Obama administration. Pres. Trump is talking about "ending" the treaty, even though nations all over the world, in addition to the U.S have signed it. This would undermine the U.S. and put other nations in the position of no longer respecting our government, further diminishing our power and respect in the world. It would open the door to Iran to go back to creating its own nuclear weapons, further endangering the region.
There may be an attempt at this time to bring the Syrian Civil War to an end. Jupiter's last journey through the diplomatic sign of Libra will sextile the eclipse degree this month. The problem is that Pres. Trump's environment in the White House is in such turmoil that this opportunity may be lost.
Israel demolished Palestinian homes and schools on the border where they want to continue to expand. The international community is coming out against this. I predicted that Israel's chart would be activated by Mars last month, leading to violence. Prime Minister Netanyahu has been accused of corruption. Things are getting even more conflicted in this region and, as Jupiter goes into Scorpio on Oct 11th (through Nov. 2018) more military actions will likely take place.
Venezuela's democracy has collapsed and the nation has been taken over by a dictator. However, the protests against this government are not over. Jupiter's transit in Scorpio beginning in mid-October will mobilize protest against this government.
Russia is seeing itself as a greater power in the world, especially as the storm clouds gather around the Trump presidency. With Jupiter going into Scorpio in Oct., they will be expanding their territory and their clout in the world.
Final Thoughts:
Throughout human history, since the so-called "dawn" of civilization, societies have been dealing with the massive use and abuse of power by those who have had the wealth and the power to do so. Following the fall of monarchies, dictators have often supplanted them and created militarized societies subjecting their people to ruthless control. In modern democratic republics and capitalistic economies, it has been a battle between elected presidents and legislators, and corporate enterprises that wrestle with each other to control the economies and create laws that benefit them. In a democratic republic, the aim is to benefit "the people" and achieve a balance of power between government and capital enterprise. That balance has been basically lost. The arrogance of what is now referred to as "the One Percent" is no less than their predecessors, the old emperors and kings that believed they had the "Divine Right" to be in charge. Too frequently, the population that has been drained and abused has paid little or no attention to who and what are really behind all this. They are more than willing to blame those of different races, religions, or ethnic groups rather than paying attention to how their elected officials are bribed, bought and sold. So many people have run for office on the premise that they will "drain the swamp" and wound up being the alligators that live there. In the U.S. Sibley chart, our progressed Sun is in Pisces, conjunct transiting Neptune and square the Ascendant/Descendant Axis. This points to a nation that no longer "knows" who or what it really is, has problems with drug abuses, is "flooded out", and has unreliable leadership. These planetary patterns continue to the end of 2018. Saturn and Pluto in Capricorn are hitting the US chart heavily in 2019 and 2020, threatening our economic solvency and the structures of our institutions.

Many of my clients and readers have recently reminded me that I predicted that this historic time would likely be the "dark night of the soul" in America. I am also reminded that the planetary pictures yet to come may reveal the historic wounds that need to come out of the darkness in order to be seen. This cycle will end in the 2020s. We may finally wake up to the insights that the misery we are witnessing now may actually help us weed out the polarizing poisons of racial hatred, economic inequities, and abuse of power that have been with us a long time. Humans have "commodified" each other, degraded the natural environment arounds us, and separated ourselves from nature. The result is now a battle between nature and human nature. Human nature must change if we are to survive in an increasingly hostile world of our own making.
Will we soon understand that we are all linked to the biological world, to each other, and to the web of light that encompasses all life on earth? Will we fulfill the ancient prophecies that foretell an elevation in wisdom and understanding that humanity will soon grasp? Will we move from Doom to Bloom?
Stay tuned.
Linda
Linda Schurman
Note:
Our coming book, co-authored by Macro-analyst Richard Spitzer and me, "Our Choice – Extinction or Evolution" is being edited and prepared for publication, most likely by November. We are generating a lot of interest in our effort, which we feel is so timely in light of the many crises that we are all confronting today. Our research not only highlights the challenges, but sees ahead into the future with solutions and ideas that are beginning now and are likely to "take off" in the not-too-distant future. I will keep my readers posted!
.
.
"We are apt to shut our eyes against a painful truth... For my part, I am willing to know the whole truth; to know the worst; and to provide for it." .....Patrick Henry
.
/
---
P
Linda Lane my publisher, and me.
---
Click here to buy
What Next?
A Survival Guide to the
21st Century
more...
Click here to buy
_______
If you would like to have a session with Linda, please contact her by email at soothesayer@usa.net
or call her at (607) 273-1312.
_______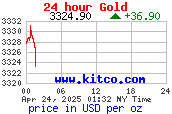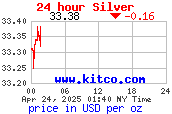 "One hundred thousand lemmings can't be wrong."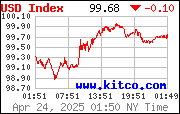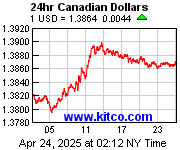 (How much CAD to buy 1 USD)
Quotes are for information only and delayed by at least 20 minutes.
following are six links that, over time, offer excellent insights into the financial crises we need to understand